Thanks to the patience and guidance of the fabulous Bob here I am doing my first solo blog post, wish me luck!
It has been a while since the first blog and although not a huge amount has happened it is certainly time to write some more. I apologise in advance for mentioning the 'C' word but let's be honest, anyone in the craft, art, retail business has been thinking about it for months and I am no exception (grumbles) but it's all about Christmas from now until the big day. This year I have promised myself to be more organised as I am pretty busy, I already have the Turkey in the freezer and gift shopping has started. I usually don't start until December I just need to remember where I put the presents and that I have been organised and not double up on the food shopping.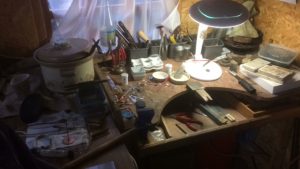 The workshop
I have been working on pushing my designs and techniques, it's has been fun teaching myself new methods in fold forming along with creating new ideas. I have also been playing with patinas, the ammonia solution I have used has made my workshop smell like a cat litter tray well overdue for emptying, so that all got evicted to the out house. One does suffer for ones art but the results seem to be popular.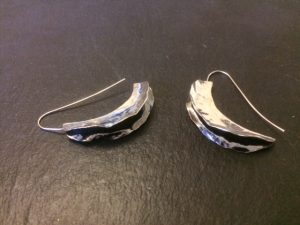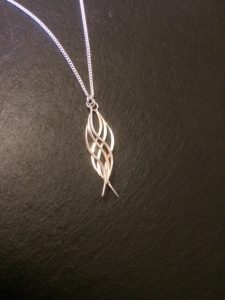 New designs
My day classes have started at Norden Farm art center in Maidenhead and these are growing in popularity and slowing filling up. I am thoroughly enjoying working with a lovely group of students who are creating beautiful pieces of jewellery and really pushing themselves, very proud of all of them. I can not believe we have broken up until after the New Year now but I look forward to seeing everyone when we go back. In the meantime I start my lectures at Bucks New University teaching fine metal techniques and design to the Product design students, always fun and the students constantly amaze me with their creativity. Classes at Wooburn craft school are due to start in January too with a full day class on a Wednesdays and an evening class on a Thursday. Anyone interested please contact me or Wooburn Craft School direct.
Norden Farm Jewellery course set up
I have started with the first show of the season at Hambleden artisan market near Henley on Thames, I was made to feel really welcome and met the most lovely people and the event was well worth going and thanks to Jo Flowers for asking me, I hope to be invited along again at a later date. Hambleden is a beautiful village and this event surprised me at how well attended it was even though it rained quite heavily on and off but once you have tasted the food in the cafe and seen the crafts and produce on sale it is no wonder it is so successful and runs every 2nd Saturday of the month, a real community event that stretches far and wide, well done Jo and the team. See my list of events as to where I will be next, I keep checking it as I am not sure myself!!!
In amongst all this we have another trip to France and the 'Chateau' ok so it's a tiny cottage in a small village but still we can pretend. I will post some pictures when we get back as it appears the only photos I have are of peeling paint and work to be done.
Stout the dog is in disgrace for being sent home from the groomers for head butting the poor groomer, he was well and truly in the doghouse for that. He came home still wet and looking very sorry for himself, I can only imagine how his groomer must of felt.
The better half is working hard completing work on war memorials for remembrance day which all seems to of gone to plan.
And finally I had good news a couple of weeks ago that my application for the Chelsea 'Desire' Jewellery fair has been accepted, this is a big thing for me and I will be creating special pieces for this three day show at Chelsea Town hall next March. All very exciting if not a little terrifying.
I will post again soon, no doubt with tales of the adventures in France, the next shows…FYI Norden Farm Art center and Windsor Gift fair at the Racecourse.
Gx